by Lesley Jacobs Solmonson
1.5 oz Brandy
0.5 oz Grapefruit Juice
0.5 oz Dry Vermouth
0.25 Sirop de Citron
Combine all ingredients in a mixing glass
Shake with ice and strain into a coupe
Featured Glassware: Octavie Martini by Villeroy & Boch
* * *
Last week, we toyed with the zombie zeitgeist – the undead and all that jazz — in our Laughing Zombie.  This week, we've moved on to more, let's just say, realistic cultural icons.  Like the good, old-fashioned American cowboy.  Now, it's no secret that 12 Bottle Bar has something of a love affair with the cowboy and his mythology.  We created a drink in honor of Roy Rogers' passing – the aptly named Rye Rogers — simply because he was a heck of a guy.  And today, we are celebrating the birth of the legendary Gene Autry.  Is it coincidence that both Roy and Gene are of the singing cowboy ilk?  Not at all – since we did the Roy Rogers post, our toddler has been shouldering his six-string and singing "Back in the Saddle Again", an Autry classic and now a household (our household) staple. Suffice it to say that cowboys are something of a theme in our lives right now.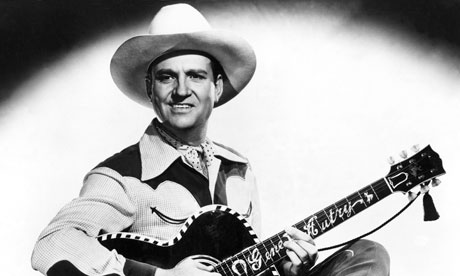 And that brings us to Gene, or rather Orvon Grover Autry, aka "the Singing Cowboy."  Dear Gene was born today, September 29, 1907 in Tioga, Texas.  Happy Birthday, sir, you lived well.  Encouraged to sing by the great humorist Will Rogers, Autry was first introduced on the KVOO radio station as "Oklahoma's Yodeling Cowboy."  But that moniker doesn't do justice to the man's legacy.  From 1934 to 1959, Autry appeared in 93 films – including his first "In Old Santa Fe", which inspired today's drink.  He also made 640 recordings (which included over 300 songs written or co-written by him), was the first performer to sell out Madison Square Garden, and starred in 91 episodes of his own TV show.  He's also the only celebrity to have received five stars – motion pictures, radio, recording, television, live theater – on the Hollywood Walk of Fame.
Despite a thriving entertainment career, Autry joined the Army Air Corps and flew "The Hump" – the route over the Himalayas in World War II.  He later brought a keen business sense to his ownership of the Los Angeles Angels  (the man loved baseball) and, in 1988, opened the Gene Autry Western Heritage Museum in Los Angeles' Griffith Park, sharing his passion for the west with others.  I pause here a moment to say that, whether you live nearby or not, you owe it to yourself to pay a visit to the Autry.  It is the perfect blend of whimsy – panning for gold and a blue screen projection room for the kids to make a movie – and education – a Day of the Dead Festival and Indian basket weaving are on the program – but it is also a treasure trove of western memorabilia, which includes everything from Autry's saddles and boots to a life-size bison and a screening room that plays old Westerns.  Along with the museum, Autry's powerful legacy is felt at the annual Cowboy Poetry & Music Festival at Melody Ranch, which he owned in the 1950's and 1960's ("Gunsmoke" was filmed there) and which is still used today as a rural TV and film location.
But enough of the history lesson.  Here's the bottom line – what makes this personal.  Gene Autry was a decent man, a man who stood for something and never wavered. When you become a parent, the word "hero" takes on new meaning.  Who, besides us, will set the example for our boy? And, indeed, our boy is just that, a boy.  Who does he want to be? He loves Superman and Captain America and he happily runs about in a makeshift cape, ready to save the world.  But, when all is said and done, he loves cowboys.  Somehow, that churning toddler brain sees the goodness and simplicity in what the cowboy stands for.  He sees the hero with the hat and the horse — and, in the case of Gene and Roy, the guitar — who rides off into the sunset after doing an honest day's work.  He somehow innately senses that being "Back in the Saddle Again" is about finding one's place in the universe and being true to it.
So, herewith, is Gene Autry's Cowboy Code.  It is, I think, his greatest legacy, encapsulated in all he did in his life.   Read it and raise a glass.
The Cowboy must never shoot first, hit a smaller man, or take unfair advantage.
He must never go back on his word, or a trust confided in him.
He must always tell the truth.
He must be gentle with children, the elderly, and animals.
He must not advocate or possess racially or religiously intolerant ideas.
He must help people in distress.
He must be a good worker.
He must keep himself clean in thought, speech, action, and personal habits.
He must respect women, parents, and his nation's laws.
The Cowboy is a patriot.
The Santa Fe Cocktail has nothing specific to do with Gene, of course, but it's the kind of drink that bridges the transition from Indian summer into the early days of autumn so well.  We've taken the liberty of changing up the drink a bit, substituting Sirop de Citron for the lemon juice to round out the flavors and provide more depth and a touch of sweetness.  If you're a fan of drinks like the Scofflaw or the Blinker, this one – with its grapefruit tang and brandy warmth – is certainly up your alley.  Enjoy it in good health and think of the Cowboy Code.
Esoterica:  As a songwriter, one of Gene Autry's best known works is the Christmas tune "Here Comes Santa Claus."